Great Places
James F. Hall Trail & the Pomeroy and Newark Rail Trail
39°40'42.42"N 75°44'7.47"W
Library Avenue & Wyoming Road
Newark, DE 19711
Phone: (302) 366-7000
Email: parksrec@newark.de.us
Visit Website
Visit Website

The James F. Hall Trail is a paved pathway spanning almost two miles on the south side of Newark, or Delaware's largest college town. This is a Rails-to-Trails pathway, meaning it used to be railroad tracks. Today it is one of the National Park Service's National Recreation Trails, and it's an excellent place to take the family.

This trail connects with three city parks: Phillips, Lewis, and Kells. Each of these parks offers parking, picnic tables, playground equipment, natural areas and more. There is even a demonstration garden for riders to stop and explore.

The western trailhead is at Phillips Park, located at Phillips Avenue and B Street. The eastern trailhead is inside Delaware Technology Park, located at the intersection of Library Avenue and Wyoming Road. In between the trail is lighted and equipped with emergency telephones. We recommend the western trailhead, because this is a good place to drop off your recycling. You can also gain access using many residential streets, each of which is marked on the trail.

The James F. Hall Trail intersects with the two-mile Pomeroy and Newark Rail Trail just east of South Chapel Street. The Pomeroy and Newark Rail Trail extends north, through the center of downtown Newark, to White Clay Creek State Park. Please visit http://youtu.be/xJ0d2CNdeZA to see a video of its unveiling. And be sure to read its signs explaining the history of the Pomeroy and Newark Railroad, or the "Pumpsie Doodle."

The total length of these trails is almost four miles. And you can extend this by using the mountain-bike trails located at the northern trailhead, inside White Clay Creek State Park.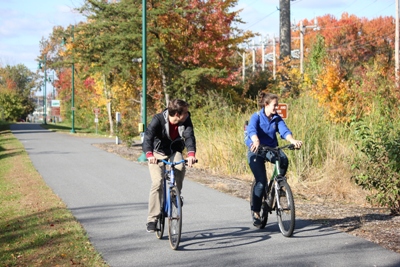 Photo by the Partnership for the Delaware Estuary
Click on the marker to view address and get directions