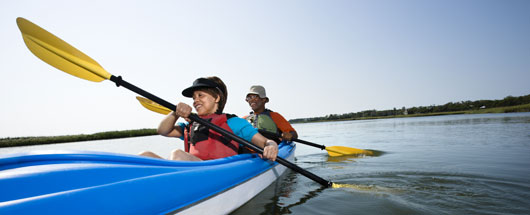 Welcome to ecoDelaware.com, your online gateway to the natural wonders of Delaware and its countless creeks, rivers, and estuaries.
EcoDelaware.com connects residents and travelers with outdoor places and activities in the First State. In this way, we hope to increase awareness, appreciation and, ultimately, environmental stewardship for the Delaware Estuary and similar river-to-sea watersheds.
So have a look around. There's a variety of destinations, events and ecotours around which you can plan your trip. We think you may be surprised. While small, Delaware has some world-class trails, outdoor festivals, and birding hot spots that never cease to amaze even the most well-traveled ecotourists.
| | |
| --- | --- |
| | |
Featured Great Places

NEW: Woodland Beach Fishing Pier
Cast your line at the new fishing pier in Woodland Beach. At 360 feet long and 12 feet wide, this pier is a great place to crab, fish, and watch wildlife. Not only that, but also it offers spectacular views of Delaware Bay, especially during sunrise.
Featured Great Events

December 4:
Hoopes Reservoir Hike
Hoopes Reservoir is strictly off limits to the public, but don't worry. The Delaware Nature Society has jumped through some "hoopes" to gain access to its four-mile trail. Join them for this exclusive, early winter hike.
Featured Great Trips

Romance in Old
New Castle
There's a certain romance you feel whenever you step foot in an early-American city. Visitors to these towns will tell you, "It's just something in the air," but could it be it has more to do with the water? That's certainly the case in Old New Castle, where this 17th-Century settlement sits at the mouth of the Delaware River and in the hearts of locals.