Great Places
Woodlawn, a First State National Monument
39°49'18.16"N 75°33'14.12"W
Woodlawn Road, between U.S. 202 and Route 92
Wilmington, DE 19803
Phone: (302) 824-3530
Email: info@woodlawntrustees.com
Visit Website
Visit Website

Woodlawn is a 2,000-acre region bordering Brandywine Creek in northern Delaware and nearby Pennsylvania. This includes the 1,100-acre First State National Monument, which is currently used for fishing, hiking, horseback riding, mountain biking and more.

Art enthusiasts may like to know that the landscapes located here have inspired many notable artists. These include the Wyeth family, Peter Hurd and George Weymouth, among many others.

Parking is available at seven small gravel lots throughout the area. The easiest to find is at the Courtyard Hotel on Concord Pike (Route 202).

Trails throughout this region are not yet marked, so please plan ahead by bringing a map and a compass. Please also bring a trash bag. There are very few trash cans available, and litter can sometimes blow or flow into the nearby creek.

Other parts of the First State National Monument include The Green in Dover and two sites in New Castle: the New Castle Court House, together with its Green, and the Old Sheriff's House.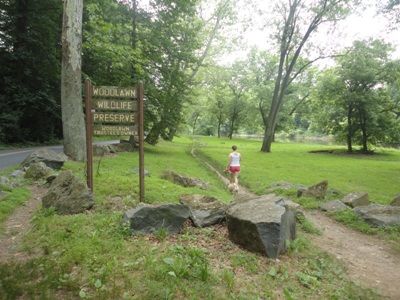 Photo by Shaun Bailey
Click on the marker to view address and get directions