Great Places
Woodland Beach Wildlife Area & Aquatic Resources Education Center
39°19'49.96"N 75°31'16.96"W
4876 Hay Point Landing Road
Smyrna, DE 19977
Email: gary.kreamer@state.de.us
Visit Website
Visit Website

Woodland Beach Wildlife Area consists of three large land tracts totaling almost 6,300 acres of wilderness near Smyrna and Delaware Bay. Among its attractions is a 60-acre waterfowl refuge that is popular with birdwatchers.

This refuge houses the Aquatic Resources Education Center, a conference facility used by environmental educators and wetland managers. The on-site ponds, wetlands, and boardwalks make this an ideal location for nature study, and catch-and-release fishing too. Three of the ponds are stocked.

Before your arrival, we recommend you consult the current schedule of hunting seasons. Or, if you're ever in doubt, simply wear hunters' orange or other bright colors. Also, please be advised that wildlife areas typically keep signage to a minimum, so a compass or GPS unit may be a wise thing to pack.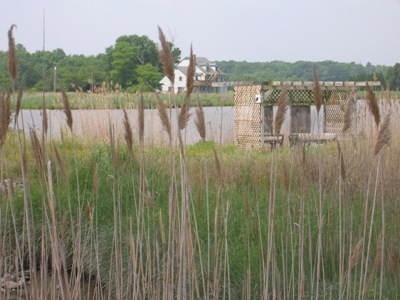 Photo by Shaun Bailey
Click on the marker to view address and get directions