Great Events
Paddling Adventure on the Blackbird
October 31, 2013, from 11 a.m. to 1 p.m.
39°23'24.40"N 75°38'10.78"W
Blackbird Creek Reserve
801 Blackbird Landing Road
Townsend, DE 19734
Phone: (302) 739-6377
Email: jennifer.holmes@state.de.us
Visit Website
Visit Website

Blackbird Creek Reserve is a national treasure, and you can explore it in a canoe ─ for free.

Never been canoeing? That's okay. Canoeing experience is preferred, but it's not required. Naturalists will show you the ropes before shoving off in search of wildlife, and perhaps a little history.

Please wear appropriate clothing for the weather. Lifejackets will be provided, and they are required to be worn.

Please register before your arrival, because space is limited. Participants must be at least 14 years old to paddle this voyage.

Discover more about Blackbird Creek by watching the six-minute video located at http://youtu.be/RlqHOfwvIKQ, or visit http://bit.ly/12yGrgS.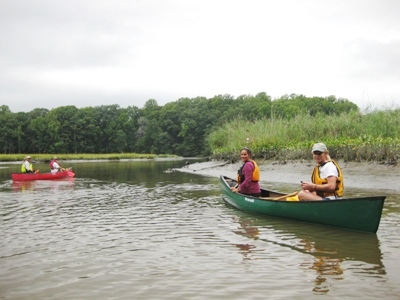 Photo by the Partnership for the Delaware Estuary
Click on the marker to view address and get directions